Archive for the 'vidya games' Category
Marcin Ramocki and I are organizing a videogame-focused version of a Bring Your Own Beamer event on Dec 8th at Postmasters gallery in NY that will coincide with an exhibition that we're curating. If you have a projector and some aesthetically interesting or unusual video games that you'd like to show or allow people to play, then email me to RSVP at BYOBgamesedition@gmail.com.
.
I've got a new version of my iPhone app search engine now renamed The App Catalog. The site now has detail pages for each app, the ability to filter by price using searches like "games free-2.99", and the ability to easily share apps on Twitter or Facebook.
It has a stereoscopic mode and this pinball does indeed rock. The camera pans around the board following the ball and Slayer's playing all the time. It's nuts.
Tom Moody posted a little about the new thing I made for the giant Bitmap show at VertexList that opened last night. I wrote an Atari 2600 emulator that supports a tiny subset of the machine's full functionality. Pretty nerdy, yeah.
According to this article we are finally getting close to ray traced video games. I don't think a lot of people are aware of the disconnect between the ray traced images of chrome spheres on checkerboards we were amazed that the Amiga could render in the late 80's, and the ray cast 3D game graphics that were used in Doom and are still in use (although in much more sophisticated form) in the game systems we have today. Although ray tracing has been around a long time, we're only now getting to the point where it can be rendered fast enough for games.
The ray casting used in games today is able to generate 3D scenes from models, but all light effects like shadows, reflection, light sources, and refraction are approximated using clever programming tricks. However ray tracing traces light through the entire scene, so light behavior is all rendered very accurately and naturally.
After Mario 64, the advances in video game graphics over the last 10 years have rarely impressed me. But I've been looking forward to real time ray tracing for a while and I think the results will be stunning. It's weird to think how obvious, cool, and simple a Marble Madness style game would be, rendered in true 3D with levels that are all reflective chrome, and that we just don't have the technology to do that yet.
And ray tracing is much simpler to program than the current approximated lighting tricks used in games, so it could actually simplify game design. Plus it can be parallelized efficiently, so the speed of the rendering is nearly multiplied by the number of processors (or cores) you have available. Cool.
OMG Sooo good. From an 80's PBS show, and the whole thing is on there in 3 parts.
this is amazing. I need to get an emulator for this thing BAD. It's like CGA times ten!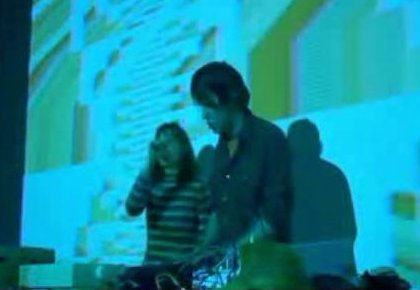 here's the preview for the 8-Bit documentary by Marcin Ramocki about video game hacking art and stuff, premiering at Moma Oct 4th. I'll probably be there. It features footage of the Tree Wave show at Deitch. That's back when I used to work on music and art instead of sitting around all day surfing Youtube.
also, the 8bit movie website
more info at Tom's.
Proof of the negative effects of violence in videogames. Whoever these guys are, they're probably in prison now.