[ ...posted: June 8th, 2006... And/Or #3 ... ]
Tom Moody gave a nice writeup on Roy's work in our current show at And/Or.
You got 2 more weeks to see it, so come check it out if you haven't yet. We're open Saturdays noon-6pm. And don't forget we're happy to open it up whenever if that doesn't work for your schedule, just email me. We live there, so it's easy.
And unlike the other bum galleries that can't take the Texas heat, we will be doing a great summer show, guest curated by Ryan Fitzer, who has been a huge help behind the scenes at And/Or.
Okay, so here are some pics of the Roy Stanfield + Wendy Red Star show that I should have posted a while ago: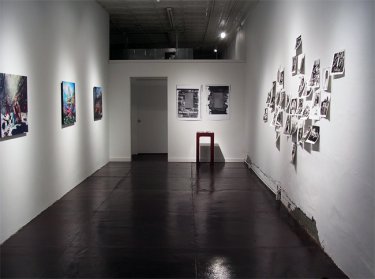 roy:
wendy:
main page