Archive for the 'LAWLZ' Category
Check this new awesome promo video for Sir Sampleton!!! by John Michael Boling, Javier Morales, Julian Bozeman, and John Crowe. Also, Paddy Johnson did an interview with John Michael and me about this.
.
"The greatest war the world has ever seen is about to commence. It's so great that even the Swiss are getting involved this time! This is a beat-'em-up based on the British TV show of the same name, which lets you match six of the world's leaders against each other – Maggie Thatcher, Ronnie Reagan, Michael Gorbachev, Pope John Paul II, Ayatollah Khomeini, and P. W. Botha. Of course, each of them has their own ways of fighting. You select an opponent and a champion, with you playing the opponent, and if you defeat the champion three times, it's on to another one…."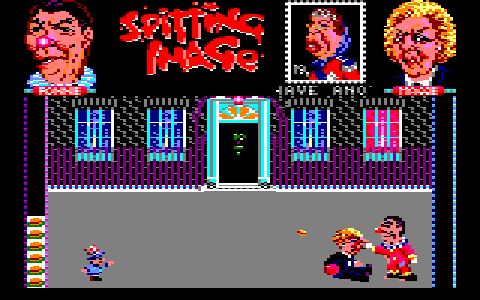 example:
HAI
CAN HAS STDIO?
I HAS A VAR
IM IN YR LOOP
UP VAR!!1
VISIBLE VAR
IZ VAR BIGGER THAN 10? KTHXBYE
IM OUTTA YR LOOP
KTHXBYE

Check this site for this guy who has a restored set of the Showbiz Pizza animatronic band and is choreographing recent songs with the setup. He's taking bids for new songs to program new choreography which he videotapes and puts on youtube.
My new favorite new internet humor source is the Slashdot tagging beta. It allows users to tag articles, and the most used tags show up on the front page under the article. Tags can only be text and numbers with no spaces or underscores. And if you want your tag to indicate the opposite of the words, you put a ! in front of it — the symbol for "not" in many programming languages.
Some example tags from the current frontpage of Slashdot are suddenoutbreakofcommonsense, money, music, itwonthelp, bwahaha, microsoft, !rechargeables, officerbarbrady…
Tags are sometimes used in the intended way, but it seems like the tagging system has been overrun with joke tags. Tag humor is similar to ytmnd, but even more concise (and nerdy)! awesome.
Today I found a perfect example, which is why I'm finally posting about this.
This movie site that Matt and Mike Chapman did is amazing. Click sound on/off.
how is this a real webpage?
(btw: "…we accept Master Charge, Visa, Discover, American Express…" — they even take credit cards from the 70's!)