Archive for the 'awesome' Category
cool, here are pics and info about the stuff in Cory's new show at team. Looks like we'll be showing some of it an And/Or next year too…
thanks to Marcin, Lauren Cornell, Cory, and everybody else that helped out!! and check it out, Tom wrote a nice mini-review. ah yeah, also thanks to Marisa for loaning me the Members Only. I forget that it gets cold up there!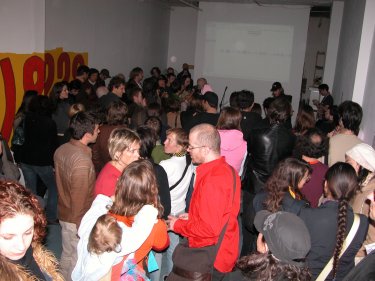 It would only be appropriate to post about this while I'm watching it. I'm in the middle of it now. This is amazing.
One of the main characters is into circuit bending and related stuff, which is executed well since the actor is just playing himself and the props are actually his own instruments. And he's working on a goofy networking/video/music project in the movie, whose finished product is used as segways throughout the movie. Everything about the way this movie is made serves its subject. Anyway, we're going to screen this at the gallery at some point.
Also, here's the website of the guy who plays/is the circuit bender (not work safe):
www.geartekcorporation.com
And/Or Gallery Show #5:
Nick Ackerman + Michael Bell-Smith
Our reception is this Saturday, Sept 23rd, 6pm-9pm.
And we'll be having artist talks at 6pm with Michael Bell-Smith and also Dirk Paesmans of the influential deconstructive Internet/video game art collective, JODI!!
JODI is a pioneer of Internet art who created net-art that questioned the nature of the Internet and browser before most people were familiar the Internet. More recently they have been working with hacks, exploits, and glitches in modern first-person-shooter video games. This is a preview of a talk that Dirk will be giving in a few weeks at the MOMA, so don't miss it.
Michael Bell-Smith is a New York-based video artist who appropriates or emulates video and images from video games and television, tears them apart, and reconstructs them into seamless video loops that are isolated from the original content. Read his recent review in the New York Times.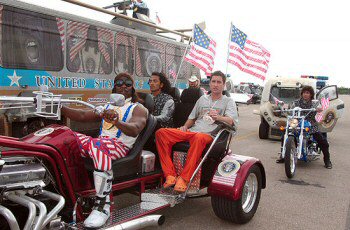 If you're in LA, Atlanta, Toronto, Chicago, Dallas, Houston, or Austin, you should take advantage of the opportunity to see Mike Judge's new Idiocracy in the theater. What I've heard from my friends who are in the movie biz is that Mike Judge really pissed off the studio, and they're showing it in the minimum number of theaters that the contract allows (125). There is no media promotion at all. No posters, no media kits, no ads, nothing.
I think the main problem is the threat of legal action from the many companies that he parodies in the movie. The plot is pretty much Sleeper mixed with The Truth about De-Evolution. Luke Wilson wakes up 500 years in the future and everybody is a moron. Everybody's clothes are covered with ads, and most restaurants and businesses have added sex to their list of products. Fuddruckers name slowly mutates into Buttfuckers (yeah, it's actually called that in the movie). And they've replaced water with Gatorade.
The great thing about this movie is if you take away how completely retarded it is, it's actually pretty good sci-fi. But it is really funny. Definitely check it out if you can. Hopefully it'll make it onto DVD unmodified.
omg, this is amazing. Wikipedia finally let the Lonelygirl15 article get created (it kept getting created and deleted because of notability debates). This has revealed some new info about her: the mysterious religion that she's into appears to be the occult. I'll copy the info from Wikipedia:
Due to Bree's video "A Change in My Life" noting a strange religious coming of age ritual and a picture of Aleister Crowley above a candle-lit shrine in her bedroom, viewers have speculated that she is an occultist.
The video "Bree The Cookie Monster" has Bree rate three cookies. The scores in order are "10", "12", and "06" (not just "6"). 10/12/06, or October 12th, 2006, which would be this year's birthday of Aleister Crowley.
Also, note she kinda freaks out when Daniel tries to light the candles under the Aleister Crowley picture. And here's a link to the picture that's above the candles in her bedroom. But I should also point out that these things are very subtle. Thousands of people watched these videos before any of this got noticed.
So this:
– pretty much proves that the story is scripted and Bree is fake
– shows that whoever is scripting it is brilliant
– makes the payoff much more mysterious, since an ad campaign or sitcom probably wouldn't be likely to feature a girl who's into the occult. (unless it's a horror movie setup or something…)
This show is great: painter Nick Ackerman from San Francisco and video artist Michael Bell-Smith from NY. The new work from these guys each complements the other so well. The show starts tomorrow (Sat Sept 9th) and we'll be open noon-6pm, but the reception is Sept 23rd.
Come see the show early if you want, maybe tomorrow on your way to all the other cool openings Saturday night. But make sure you also come on the 23rd because we'll have Michael Bell-Smith and a member of JODI giving artist talks. JODI is a collective that is one of the earliest pioneers of net and digital art, and Dirk is coming all the way from the Netherlands to speak at Cinematexas and our space!!
Also on the 23rd House of Dang, the new store opening next to us, will be having a vendor/preview party, so you'll be able to check it out. It's run by a couple of awesome designer that have their own women's clothing line and will have their studios in the store. The store will carry some of their own clothes, customized vintage clothes and furniture, goofy kitsch stuff, and whatever. It looks really cool, and Doug and Andy are really fun neighbors.
demo of the cool logitech webcam software face tracking effects. Finally a practical use for computer vision!!!!!!!!!!
Where was I in 2003 that I missed this!? Eric Prydz remix of "Valerie" by Steve Winwood. There's a video, but it's too pornographic and ruins the effect. You know where to find it if ya wanna see it.
It works better with visuals that reinforce the archetype, oh something like this:
Starts today and runs through Sunday. See my post about it on the Dallas Met Blog.
Definitely want to see the Nam Jun Paik retrospective at the DMA on Thursday.
Proof of the negative effects of violence in videogames. Whoever these guys are, they're probably in prison now.