Archive for the 'awesome' Category
Got some pics of the opening and new show at And/Or with JODI and Arcangel Constantini. Pics of the New York portion of the show at VertexList here.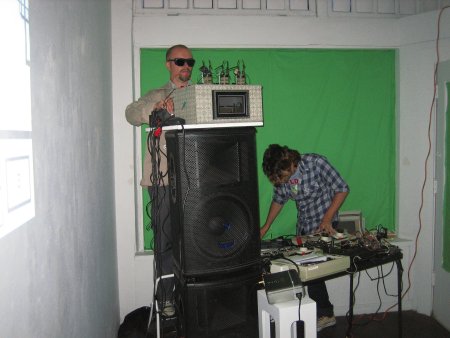 Arcangel performing with his crazy spark devices, and me frantically trying to get my gear ready for my set.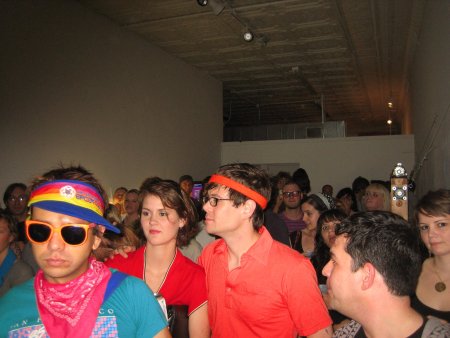 Big crowd, a lot of people just ended up hangin outside during the performance because it was so packed. Epcot Center.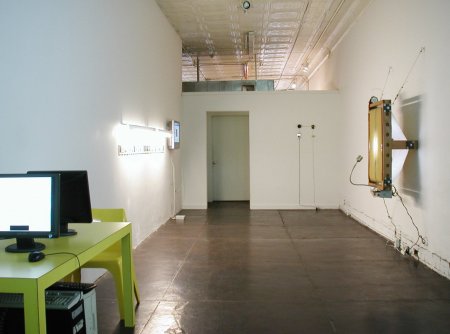 JODI's Untitled Game (Quake 1 hacks) on the yellow table, Arcangel's Semimscope on the right, his SX-70 installation on the left, and his Zi-re-filme Palm Pilot video installation in the back.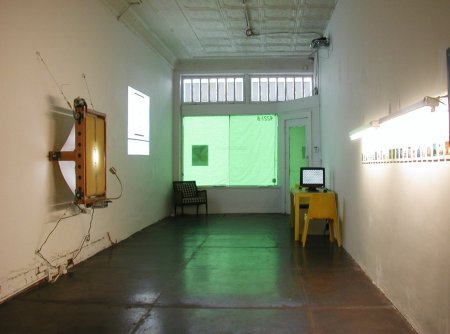 The projection is JODI's BCD, a Wolfenstein 3-D hack.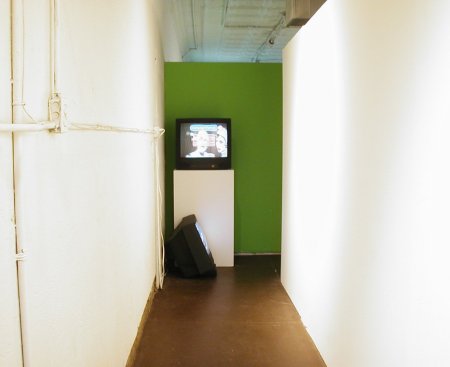 JODI's awesome new Composite Club videos — Sony Eyetoy camera + cinema. The wall is chroma-key green.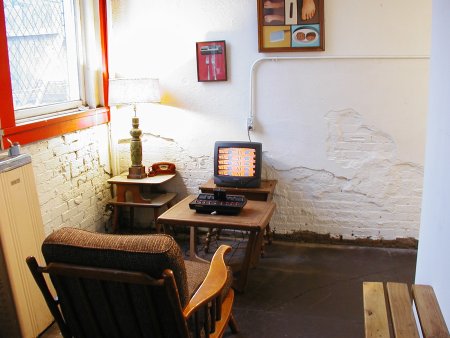 Arcangel's Atari Noise Como en Casa installation in the back gallery with a couple of Chad Hopper pieces integrated from our last show.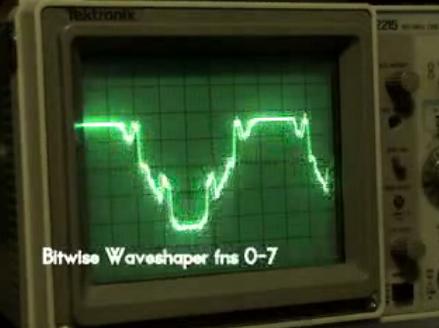 OMG!! Demo video of the Malgorithm modular synth module, which does various realtime sampling rate and bit reduction. The Boss-Heavy-Metal-pedal / punching-holes-in-your-amps of the future. This video is amazing in so many ways.
Then there's the Zorlon Cannon module which generates audio in a manner similar to early Atari 8-bit machines — creating a stream of repeating on/off signals (bits) at a variable rate to generate sound that ends up being very distinct.
Both of these modules are such an awesome tangent of technology and are the best kind of geek punk. More about them on The Harvestman website.

I finally took the time to figure out AVISynth, and it is by far one of the coolest programs I've found in years. It's a free, open source, script-based video editor. (Sorry, PC only, but apparently the next major release will have a Mac version.)
So you edit your videos by writing a textfile script telling it to load video files and then do various operations on them. And it can do pretty much anything I'd ever need to do: crop, resize, splice, denoise, titles, mix, fade, adjust color levels, etc. And if it doesn't have the filter you need built in, somebody's probably written a plugin filter that does it.
But what's even cooler is that it doesn't output the videos as files — it installs itself as a codec so that the script files are seen as video files to other programs. So you can open a script with Windows Media Player and it will play as if it's a video file, since AVISynth just executes the script and feeds the edited video frames to the program. This can save a lot of disk space since you rarely will have to save actual video files of edits you do. But if you want to create a video file of your edits, you can open the script in VirtualDub and then encode it into whatever format you want.
The other really cool thing is that any edits you do are self documenting, since the script is already a list of all the editing you are doing. And I love that it's such a small program that uses minimal resources. I suspect it will run on pretty minimal hardware that you wouldn't even think about trying to run Premiere on.
[re: image above, Watching all six Star Wars movies simultaneously, an internet sensation you may remember from a while back, was made with AVISynth]
OMG Sooo good. From an 80's PBS show, and the whole thing is on there in 3 parts.
Holy crap, on my new band account when I logged in today I got offered a new Myspace music store option. Didn't get the offer on my Treewave account. The store is powered by SNOCAP which allows you to sell your music with Microsoft DRM or without DRM (!!) as an mp3. Finally an alternative to the DRM-infested iTunes Store.
this is amazing. I need to get an emulator for this thing BAD. It's like CGA times ten!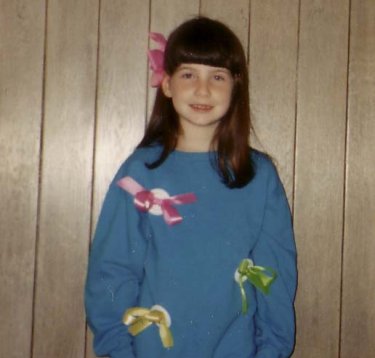 a nice directory of craft-shirt images. And note my clever usage of a pr0n-based open directory image browser tool to make it into a slideshow, since the base directory is actually protected. (warning links on the page other than the "next" or "prev" buttons may not be safe for work!)