Archive for the 'awesome' Category
I curated a historical video game art show at And/Or featuring Cory Arcangel, Myfanwy Ashmore, John Horton Conway, JODI, Joan Leandre, David Maynard, Penn and Teller, and Michael Smith, plus rare games on loan from the Supercade collection and a set of Commodore 64 crack intros curated by Beige Records and Radical Software Group. The show will be up through January.
Press release:
http://www.andorgallery.com/press32.html

And/Or Gallery is reopening in Pasadena, CA on Nov 4th!!
Check this new awesome promo video for Sir Sampleton!!! by John Michael Boling, Javier Morales, Julian Bozeman, and John Crowe. Also, Paddy Johnson did an interview with John Michael and me about this.
.
War Pinball is a 99cent iPhone/iPad app that has 3 pinball machines based on the movies Platoon!, Navy Seals, and Missing in Action. Has a 3D mode that works with red/blue glasses. Same company that made the Slayer pinball, Gameprom ooo.
It has a stereoscopic mode and this pinball does indeed rock. The camera pans around the board following the ball and Slayer's playing all the time. It's nuts.
[NSFW] I love these mix mp3s from my friend Jeremy. If I took the time to keep up with music and make mix mp3s, mine would probably be very similar but not as good.
"The greatest war the world has ever seen is about to commence. It's so great that even the Swiss are getting involved this time! This is a beat-'em-up based on the British TV show of the same name, which lets you match six of the world's leaders against each other – Maggie Thatcher, Ronnie Reagan, Michael Gorbachev, Pope John Paul II, Ayatollah Khomeini, and P. W. Botha. Of course, each of them has their own ways of fighting. You select an opponent and a champion, with you playing the opponent, and if you defeat the champion three times, it's on to another one…."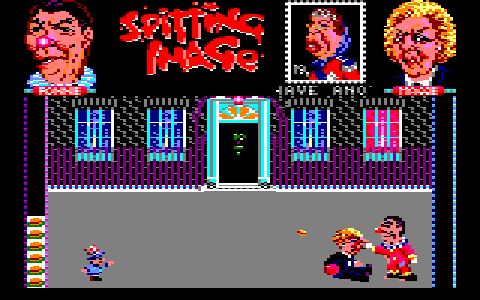 Check this site for this guy who has a restored set of the Showbiz Pizza animatronic band and is choreographing recent songs with the setup. He's taking bids for new songs to program new choreography which he videotapes and puts on youtube.
And/Or Gallery Show 14: Kristin Lucas
Opening Saturday February 2nd, 6pm-9pm
with performance by Mom at 8:30
Kristin Lucas's exhibition consists of two parts. In the front gallery we will have her contemplative installation including video, light box prints, cast rocks, and laser cut comets. And in the second gallery we will have her Refresh group exhibition where she legally changed her name from Kristin Lucas to Kristin Lucas as a kind of re-awakening, and she had her colleagues produce portraits of her before and after the change.
This is a great show, and one of our most ambitious yet. Come check it out!
for more info visit www.andorgallery.com
BTW: this is our two-year anniversary — first show was Tom Moody + Saskia Jorda, January 28th, 2006.