Archive for the 'and/or pics' Category
I posted pics of Show #12 at And/Or with Kevin Bewersdorf and Guthrie Lonergan.
Got some pics of the opening and new show at And/Or with JODI and Arcangel Constantini. Pics of the New York portion of the show at VertexList here.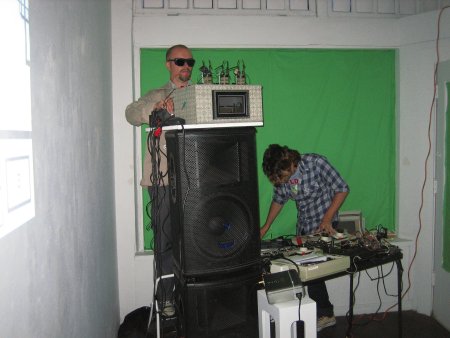 Arcangel performing with his crazy spark devices, and me frantically trying to get my gear ready for my set.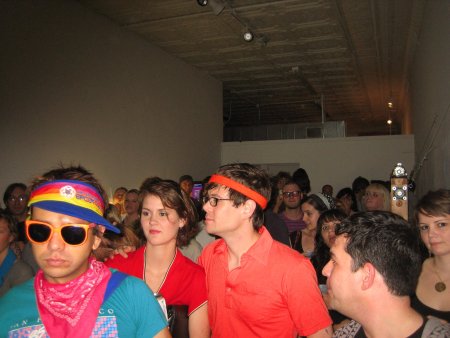 Big crowd, a lot of people just ended up hangin outside during the performance because it was so packed. Epcot Center.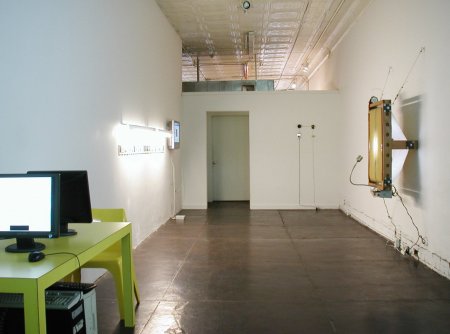 JODI's Untitled Game (Quake 1 hacks) on the yellow table, Arcangel's Semimscope on the right, his SX-70 installation on the left, and his Zi-re-filme Palm Pilot video installation in the back.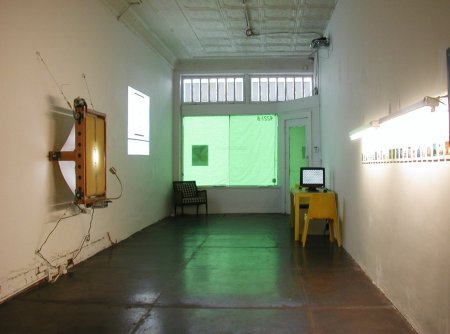 The projection is JODI's BCD, a Wolfenstein 3-D hack.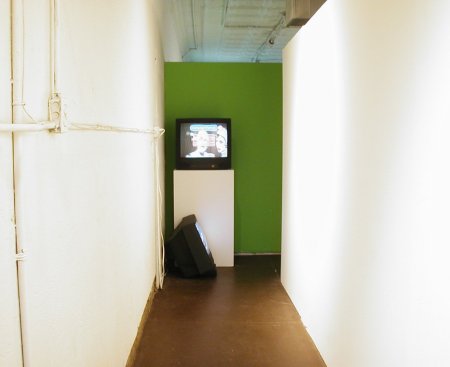 JODI's awesome new Composite Club videos — Sony Eyetoy camera + cinema. The wall is chroma-key green.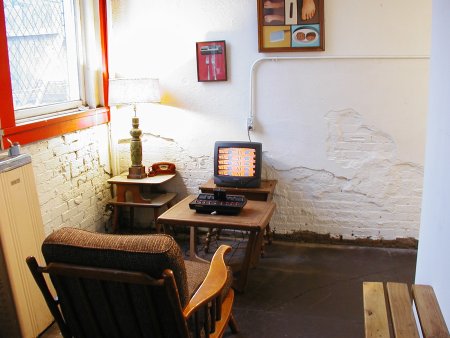 Arcangel's Atari Noise Como en Casa installation in the back gallery with a couple of Chad Hopper pieces integrated from our last show.
Here are the images/info/media for the current And/Or show with Chad Hopper, John Michael Boling, and Javier Morales.
Tom Moody gave a nice writeup on Roy's work in our current show at And/Or.
You got 2 more weeks to see it, so come check it out if you haven't yet. We're open Saturdays noon-6pm. And don't forget we're happy to open it up whenever if that doesn't work for your schedule, just email me. We live there, so it's easy.
And unlike the other bum galleries that can't take the Texas heat, we will be doing a great summer show, guest curated by Ryan Fitzer, who has been a huge help behind the scenes at And/Or.
Okay, so here are some pics of the Roy Stanfield + Wendy Red Star show that I should have posted a while ago: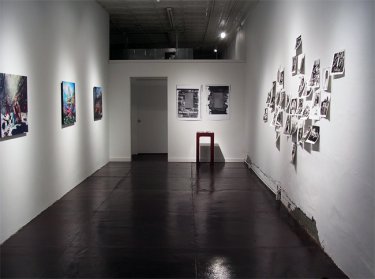 roy:
wendy:
More pics of the Paper Rad/Cory Arcangel/Chad Hopper show at And/Or
Here are a few pics from the show. More soon.

"video comic" by PR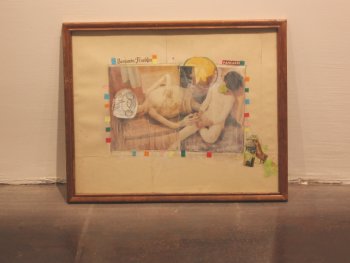 "bathroom buddies" by Chad

"ever danced with garf?" by PR and Cory

"1000 candles" by Chad

"facemaker" by PR
(we're going to get some extensions to fix the lighting on these two)

The gallery opening was awesome. We had a great turnout and everything looked great. I didn't want to mention this until we'd actually done it, but we're going to have a zine for each show with pictures or drawings of the stuff in the show (it doubles as a price list), some info about the artists, and in this one we got permission to reprint Cory's interview with Tom. We should have more original content later on, but we were struggling to finish this one (Lauren arrived with the zines about an hour into the opening).
We got a good plug in the Observer, a listing in the Dallas Morning News Weekend Guide (I heard that's not easy to do for your first show), and we were a recommended pick on Glasstire. Should be more press soon.
from outside the front window, Saskia is there with the pink vest. W.I.M.P. projected in the back. I'm not sure why but every picture I take of the whole gallery makes it look smaller than it feels when you're actually there.

Tom's animated GIF videos and Saskia's installation.

Tom's wormy MS Paintbrush drawings and Vortex 1&2

Tom's Guitar Solo!

the narrow gallery w/ Saskia's felt pieces and Tom's animated GIF printout in the distance