Archive for the 'video toolz' Category
I made a video showing off the various features of my wirelessly synchronizing Andor 1 media player including video wall modes, MIDI control, etc.
I developed a new video player module for artists, which is now available from LZX Industries!!
For video art, stage production, video walls, signage, etc. Plays seamless video loops or shows still images, and media can be easily switched with a keypress on a USB keyboard, MIDI keyboard, or the optional remote control. Multiple units used together can wirelessly synchronize the playback of video files across multiple screens. Supports interactive playlists, video wall modes with bezel compensation, MIDI control, video rotation options, and built-in video color test patterns.
I just released my second app for iPhone/iPad called Magic Carpet. The app is partly an artwork, but it also doubles as a musical instrument, a hypnosis and meditation tool, a toy, a VJ app, etc. It displays collages of quickly spinning rugs and quilts accompanied by sounds or music generated from a software binaural beat synthesizer and sample player. It can also play music from the device's music library, and it has a musical instrument mode.
Magic Carpet supports Apple's composite, component, and VGA cables on the iPhone 4, iPod Touch 4, and iPad. This enables you to run the app on your iPhone and display the output on a TV or video projector, which is cool. The capability of these devices to output video has a lot of potential for interesting apps.
The app is a buck, you can get it by searching for "Magic Carpet" in the App Store.
Demo vids below, and more vids here.
.
Expensive, but I doubt there's any other way to capture processor-intensive stuff at 1280×1024/30fps: VGA2USB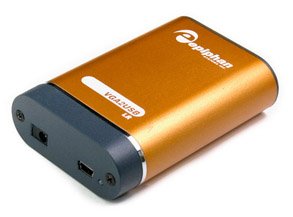 DVD Format Tech Specs. It's weird how hard it is to find DVD tech info. I looked a year or two ago and the only way you could get any of this info was through pay sites.

I finally took the time to figure out AVISynth, and it is by far one of the coolest programs I've found in years. It's a free, open source, script-based video editor. (Sorry, PC only, but apparently the next major release will have a Mac version.)
So you edit your videos by writing a textfile script telling it to load video files and then do various operations on them. And it can do pretty much anything I'd ever need to do: crop, resize, splice, denoise, titles, mix, fade, adjust color levels, etc. And if it doesn't have the filter you need built in, somebody's probably written a plugin filter that does it.
But what's even cooler is that it doesn't output the videos as files — it installs itself as a codec so that the script files are seen as video files to other programs. So you can open a script with Windows Media Player and it will play as if it's a video file, since AVISynth just executes the script and feeds the edited video frames to the program. This can save a lot of disk space since you rarely will have to save actual video files of edits you do. But if you want to create a video file of your edits, you can open the script in VirtualDub and then encode it into whatever format you want.
The other really cool thing is that any edits you do are self documenting, since the script is already a list of all the editing you are doing. And I love that it's such a small program that uses minimal resources. I suspect it will run on pretty minimal hardware that you wouldn't even think about trying to run Premiere on.
[re: image above, Watching all six Star Wars movies simultaneously, an internet sensation you may remember from a while back, was made with AVISynth]
I'm finally totally comfortable dealing with video on the PC. I've tried Premiere and it's totally overkill and doesn't include some stuff I want. I really don't do much editing except for resizing, color correction, and cutting a few bits out.
The key software combination for me is VirtualDub (MPEG2 version) and Camtasia. Props to Tom for the Camtasia tip.
VirtualDub is open source software I've discussed before. It's really good for resizing, changing frame rates, adjusting color, removing frames, replacing audio, converting image sequences to video (and the reverse), etc. I really like the simple low tech interface. And it's nice that you can sometimes do your work without re-encoding. Last night I used VirtualDub to cleanly convert my Time Lapse Homepage at 1280 x 800/20FPS to a letterboxed 720 x 480/ 29.97 FPS for a DVD.
Then Camtasia is the tool to convert from any format into any other format, which has been my biggest issue. I'm using a trial version now, but I think I might actually pay for this thing. I used it to make streaming Quicktimes of all my stuff, and to make that Steve Winwood GIF from a Youtube video. Your input choices are camera, screen capture (any size), or almost any kind of video file. And you can output to Windows Media, Quicktime, Flash, Realplayer, or animated GIF. And it also has a decent video editor.
And then Adobe Encore to burn looping DVDs.
1) File -> Import -> Asset and import your video
2) Right click on your video that you just imported — New -> Timeline
3) Click on the Timeline and under "End Action" on the right, set it to go back to the beginning of the timeline.
4) This doesn't have anything to do with looping, but click on the Menu tab on the left, and set the Title button to also go back to the beginning of the timeline. It'll give you an error when building if you don't do this.
5) File -> Build DVD