Archive for the 'and/or' Category
New show opening at And/Or Saturday night! New videos, prints and drawings from New York new media artist Marisa Olson and architectural blue prints of pop culture from Christine Gedeon. Performance by all-girl circuit-bender noise group Animal Forces at 8:30.
Saturday, March 8th 6pm-9pm
www. andorgallery. com
&&||
And/Or Gallery Show 14: Kristin Lucas
Opening Saturday February 2nd, 6pm-9pm
with performance by Mom at 8:30
Kristin Lucas's exhibition consists of two parts. In the front gallery we will have her contemplative installation including video, light box prints, cast rocks, and laser cut comets. And in the second gallery we will have her Refresh group exhibition where she legally changed her name from Kristin Lucas to Kristin Lucas as a kind of re-awakening, and she had her colleagues produce portraits of her before and after the change.
This is a great show, and one of our most ambitious yet. Come check it out!
for more info visit www.andorgallery.com
BTW: this is our two-year anniversary — first show was Tom Moody + Saskia Jorda, January 28th, 2006.
I posted pics of Show #12 at And/Or with Kevin Bewersdorf and Guthrie Lonergan.
We're kickin off the gallery season this Saturday at And/Or. And next month we got an awesome show coming with Kevin Bewersdorf and Guthrie Lonergan.
And/Or Show #11:
A group show curated by Titus O'Brien
reception Saturday, September 15th, 6pm-9pm
Show #11 features work by Kana Harada, Chris Hefner, Devin King, Stephen Lapthisphon, Greg Metz, Rinpa Eshidan, Cameron Robbins, Johnny Robertson, Daniel Subkoff, and Terri Thornton
And/Or Show #10: Lily Hanson + Jason Singleton
reception Saturday, June 30th, 6pm-9pm
performance by Mom at 8pm
And/Or #10 is sculpture installations by Lily Hanson and Jason Singleton.
Lily, who lives in Dallas, received the Dallas Museum of Art Dozier Travel Grant this year and her work was included in the 2007 Texas Biennial. Jason is from Austin where he showed work at The Fresh Up Club and was featured in The Austin Museum of Art's "22 To Watch". He currently resides in Brooklyn.
At the opening we'll have a performance by Denton's Mom, who use a mix of sampling and electronics with guitar and classical instruments to make some killer tunes.
This exhibition runs through July 28th.
I've put online the pics and info from And/Or Show #9 with JODI and Arcangel Constantini.
Also, new show opening next Saturday June 30th with Lily Hanson and Jason Singleton. More info soon…
Got some pics of the opening and new show at And/Or with JODI and Arcangel Constantini. Pics of the New York portion of the show at VertexList here.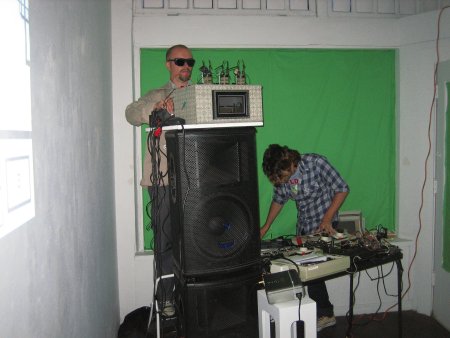 Arcangel performing with his crazy spark devices, and me frantically trying to get my gear ready for my set.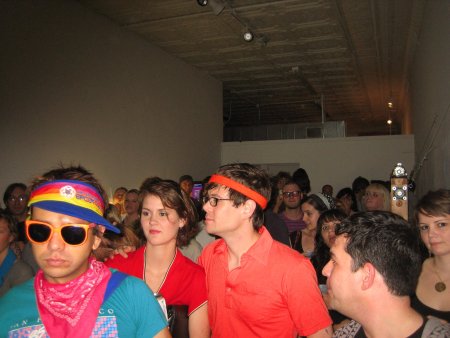 Big crowd, a lot of people just ended up hangin outside during the performance because it was so packed. Epcot Center.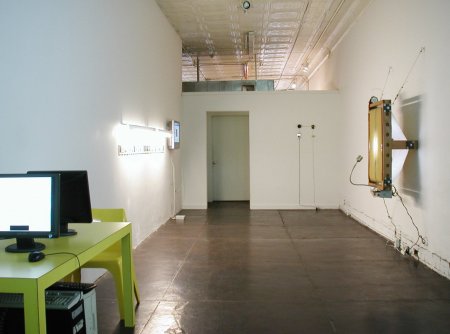 JODI's Untitled Game (Quake 1 hacks) on the yellow table, Arcangel's Semimscope on the right, his SX-70 installation on the left, and his Zi-re-filme Palm Pilot video installation in the back.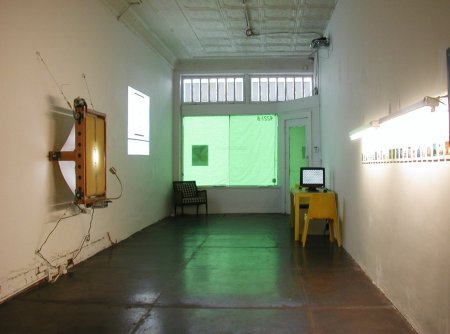 The projection is JODI's BCD, a Wolfenstein 3-D hack.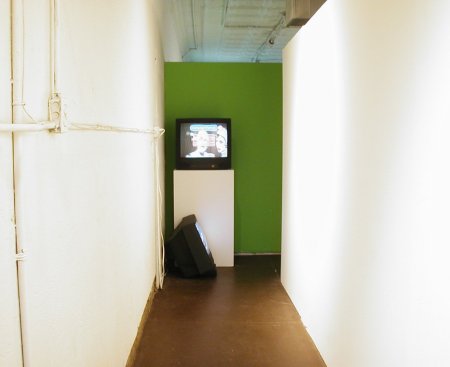 JODI's awesome new Composite Club videos — Sony Eyetoy camera + cinema. The wall is chroma-key green.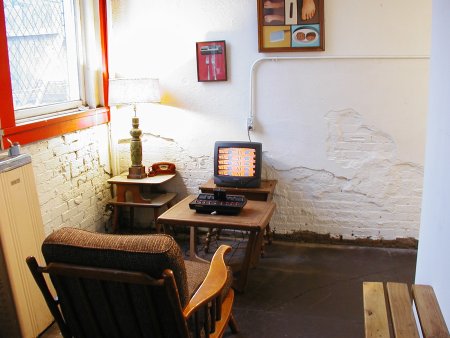 Arcangel's Atari Noise Como en Casa installation in the back gallery with a couple of Chad Hopper pieces integrated from our last show.
We have an awesome new show opening on Friday (May 4th) at the gallery. It's JODI (Netherlands) and Arcangel Constantini (Mexico City).
Opening is 6pm-9pm and we'll have a performance at 8pm of high-voltage spark/noise by Arcangel and 8bit shoegaze by Tree Wave. Also we're doing this JODI show in conjunction with VertexList in NY who will be having their opening simultaneously, and we'll have a live webcam link between the two openings. Should be a lot of fun, come check it out.
If you're in Dallas, we're looking for interns at the gallery again. We haven't used interns much previously, but I've realized I'm going to have to in order to keep the place going. It's just so much work to keep this place running. We need help with research, installation, promotion, etc.
Can't offer a whole lot but to share my experience and give 50% off any gallery purchases. If you're an artist without much experience though, spending some time working in a gallery really is very helpful.
The Chad Hopper/John Michael Boling/Javier Morales show at And/Or got a nice Dallas Morning News writeup today. It's in the paper and also the main feature on the GuideLive website. We've been trying to get some coverage in the DMN for a while, cool.
PS: as Tom pointed out, it's kinda odd that they didn't mention the extremely bloody bit in JMB/JM's Blood Fantasy from the 70's horror movie, but hopefully people who read it will actually come here and see the show. Maybe the editor cut it out or something.
Here are the images/info/media for the current And/Or show with Chad Hopper, John Michael Boling, and Javier Morales.
And/Or Gallery Show #8:
Chad Hopper + John Michael Boling and Javier Morales
This is our second showing of painting and collage by Austin-based Chad Hopper, and one of the first gallery shows of the quickly rising video and net artist team from New York, John Michael Boling and Javier Morales. This show's going to be weird and great, come check it out!
February 24th – March 31st
opening reception Saturday, February 24th 6pm-9pm
more info at www.andorgallery.com
———————————————————
Also going on this weekend in Dallas…
Friday night at the Dallas Center for Contemporary Art, a (semi) narrative video show curated by John Pomara, Dean Terry & Joan Davidow. It includes a video from Michael Bell-Smith and some other stuff that looks cool too. More info here.
And there's a new show at Plush opening Saturday night, and a show opening at the Fort Worth Modern on Sunday that includes Loretta Lux
And/Or Show #6: Artificiel + Texelectronica
reception Friday, Oct 27th, 6pm-11pm.
We'll be featuring a light and sound piece by the Canadian collective Artificiel, with their collaborator Pascale Malatarre designing the installation. The work is based on a simple concept: playing voice recordings through high power audio amplifiers and feeding them through large 1000 watt light bulbs. The tungsten and glass materials of the bulbs act as rich but band-limited filters, resulting sometimes in understandable whispers, other times purely synthetic tones, creating flowing and ebbing waves of light and sound.
At our opening reception, we will also be hosting additional digital art installations and performances by regional and international artists that are part of the Texelectronica Festival organized by UNT and the French Embassy. And be sure to check out their schedule for other events and the symposium that will be going on Thursday through Sunday.
Performances at the reception start at 8pm and will include Yao Bin, Frank Dufour, Washboard Leo, and some of the local Laptop Deathmatch crew.
And if that's not enough, our awesome new neighbors, House of Dang, will be having a Halloween party next door!!
check it, on glasstire.com.
btw: we extended the show till the 25th in case you haven't seen it…