Archive for the 'dude' Category
"The greatest war the world has ever seen is about to commence. It's so great that even the Swiss are getting involved this time! This is a beat-'em-up based on the British TV show of the same name, which lets you match six of the world's leaders against each other – Maggie Thatcher, Ronnie Reagan, Michael Gorbachev, Pope John Paul II, Ayatollah Khomeini, and P. W. Botha. Of course, each of them has their own ways of fighting. You select an opponent and a champion, with you playing the opponent, and if you defeat the champion three times, it's on to another one…."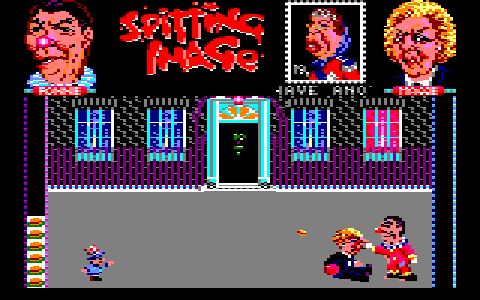 example:
HAI
CAN HAS STDIO?
I HAS A VAR
IM IN YR LOOP
UP VAR!!1
VISIBLE VAR
IZ VAR BIGGER THAN 10? KTHXBYE
IM OUTTA YR LOOP
KTHXBYE

Why didn't I know about this?
Create Flash online:
http://antimatter15.110mb.com/ajaxanimator/build/
or
Ming is a C library for creating Adobe Flash (.swf) files. It is often packaged as a PHP module; this allows for the dynamic generation of Flash animations by the web server based on input from a database. In addition to PHP, the library can also be used in the programming languages C++, Perl, Python, and Ruby.
This is too weird. Watch the videos. Two things you need to know: Devo did most of the music, and pretty much all the lyrics were changed to be "family friendly", which means their original core meaning is removed or reversed. I read something about this a while back, but I never saw the videos or knew much about it.
This is so brilliant, or the grossest sellout in history. I think it's the former though.
The music's actually pretty good. It would be awesome if some other bands would do this — basically have a kid that's your understudy so they take your place when you get too old and carry on the band. like Journey.
For some contrast, my favorite Devo song live:
http://www.youtube.com/watch?v=0UKtZwWLMp8
And Devo live in '77:
http://youtube.com/watch?v=-oQql7XXx88
Where was I in 2003 that I missed this!? Eric Prydz remix of "Valerie" by Steve Winwood. There's a video, but it's too pornographic and ruins the effect. You know where to find it if ya wanna see it.
It works better with visuals that reinforce the archetype, oh something like this: