Archive for the 'art' Category

And/Or Gallery is reopening in Pasadena, CA on Nov 4th!!
Marcin Ramocki and I are organizing a videogame-focused version of a Bring Your Own Beamer event on Dec 8th at Postmasters gallery in NY that will coincide with an exhibition that we're curating. If you have a projector and some aesthetically interesting or unusual video games that you'd like to show or allow people to play, then email me to RSVP at BYOBgamesedition@gmail.com.
.
I was recently asked to DJ for Paddy Johnson's Sound of Art event in Toronto, and due to a passport problem, I decided to try DJing remotely via the Internet. I researched a lot of different ways to do this and it wasn't easy to find all the info I needed, so I'm sharing it here.
My goal was to send both audio and video, but the audio quality was unusable for music with all the video streaming methods I tried. For a performance coming through a loud PA, I think the sound needs to be pretty decent unless it's really lofi music. This site lists a lot of audio streaming options for performances, but most of the things I tried weren't right for one reason or another.
Ultimately I ended up using Mixlr for audio and Ustream for video because they are free to use, are easy, and both have built-in ability to record. The problem with this setup is that the video and audio will not be in sync, but for my DJ performance it didn't matter. Mixlr sounds great and is very stable but there is a delay of several seconds on the stream. Ustream also has ads if you use the free service, but I actually think this makes the performance more funny and interesting, and when you're streaming the audio separately on Mixlr, the audio will continue playing during the commercials. And if you use Ustream, I recommend downloading Ustream Producer.
The primary problem with the setup was just that I didn't have any way to see the audience to know how they were responding, which makes it difficult to know which direction to go with your set. If we did it again, I'd want to set up some kind of live camera at the venue, either using Skype or another Ustream feed from the venue.
Below are a couple pics of the show in Toronto. The first image is of the two Magic Carpet projections that we had installed, and the second photo is the third projector that was showing my Ustream video feed from my apartment in New York.
I just released my second app for iPhone/iPad called Magic Carpet. The app is partly an artwork, but it also doubles as a musical instrument, a hypnosis and meditation tool, a toy, a VJ app, etc. It displays collages of quickly spinning rugs and quilts accompanied by sounds or music generated from a software binaural beat synthesizer and sample player. It can also play music from the device's music library, and it has a musical instrument mode.
Magic Carpet supports Apple's composite, component, and VGA cables on the iPhone 4, iPod Touch 4, and iPad. This enables you to run the app on your iPhone and display the output on a TV or video projector, which is cool. The capability of these devices to output video has a lot of potential for interesting apps.
The app is a buck, you can get it by searching for "Magic Carpet" in the App Store.
Demo vids below, and more vids here.
.
And/Or went to an art fair, we're all professional and serious now. It was just the top Dallas contemporary galleries, but it's a start. And it went really, really well. Check out the pix:
http://www.kevintodora.com/cadd/slideshow
I really don't want to be a full-on dealer, but there's actually a chance that we could break even this year, which is crazy and kinda cool!
FYI: CADD = Contemporary Art Dealers of Dallas, and it's a new invite-only organization of (most of) the top galleries in Dallas. More info here
And/Or's doing our first art fair in Dallas this weekend… we got the new(ish) Paper Rad video from the Armory and some books, one of the new JODI videos, Tom Moody, Nick Ackerman, John Michael Boling/Javier Morales, a few new Chad Hopper pieces, probably some stuff from our upcoming show with Lily Hanson and Jason Singleton…
Got some pics of the opening and new show at And/Or with JODI and Arcangel Constantini. Pics of the New York portion of the show at VertexList here.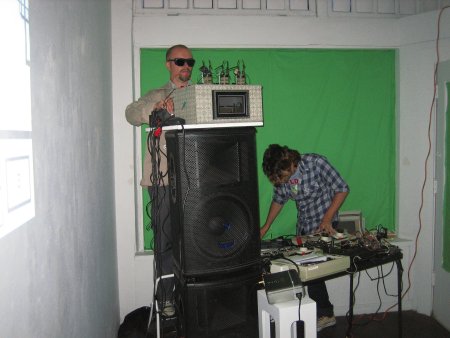 Arcangel performing with his crazy spark devices, and me frantically trying to get my gear ready for my set.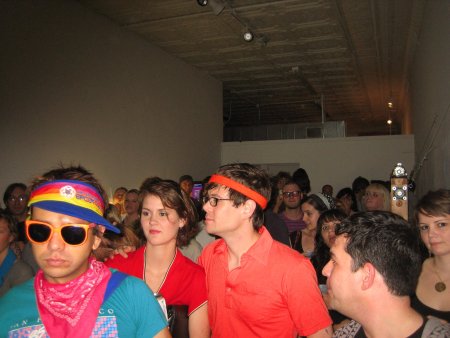 Big crowd, a lot of people just ended up hangin outside during the performance because it was so packed. Epcot Center.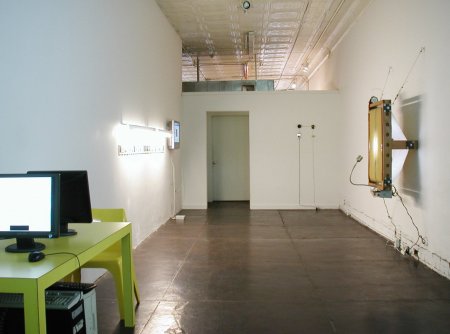 JODI's Untitled Game (Quake 1 hacks) on the yellow table, Arcangel's Semimscope on the right, his SX-70 installation on the left, and his Zi-re-filme Palm Pilot video installation in the back.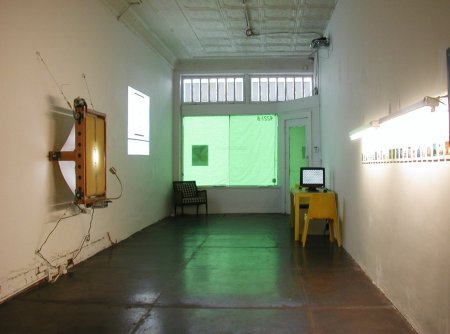 The projection is JODI's BCD, a Wolfenstein 3-D hack.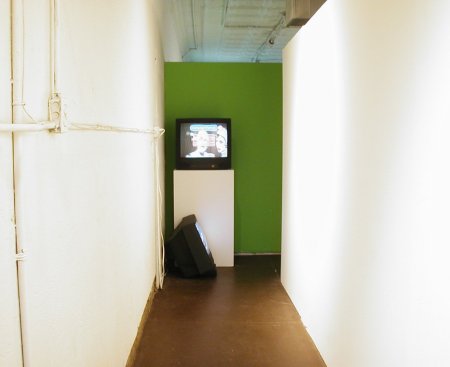 JODI's awesome new Composite Club videos — Sony Eyetoy camera + cinema. The wall is chroma-key green.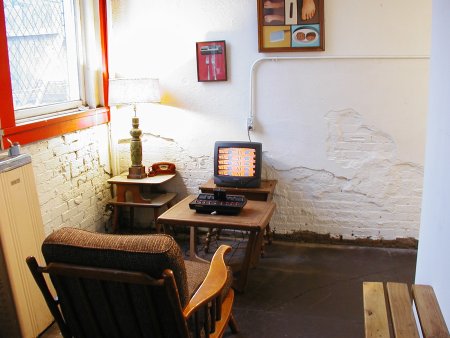 Arcangel's Atari Noise Como en Casa installation in the back gallery with a couple of Chad Hopper pieces integrated from our last show.